EC Consultant (Product) Job Description
Job Role : EC Consultant (Product)
About the role:
Requirements Gathering & Designing:

Liaison with SMEs to understand their Business Requirements and advise them efficient system solutions. If required, guide the clients in re-engineering their Business Processes. Also educate them on alternatives for
system design & advice how to achieve desired business outcomes.

Implementation:

Configure and Test SAP SuccessFactors modules
Data Migration: Perform/Support Data Migration as required.

Client Engagement:

Setup relevant data within the configured SAP SuccessFactors module, so as to showcase to client the end-to-end business process. Collect & process the feedbacks from Clients, to make necessary system changes. Also extend extensive support to Clients when they test SAP SuccessFactors modules.
Training: Educate clients on how to use SAP SuccessFactors modules.
Documentation: Diligently document Business Requirements so as to baseline for implementation. Prepare training materials & other documents required for successful completion of the project.
Support: Post implementation, understand the requirements / issues from the client and provide necessary technical solutions. This could include fixing issues and/or implementing new features based on business need.
In addition to working with Enterprise customers on SF module(s), Consultant(s) will be given an opportunity to learn additional SAP SuccessFactors modules through RA's HRTA program designed for experienced SF Consultants and will receive HRTA Certificate upon successfully completing the business case presentation to RA's HR-Tech mentor team. To find out more about RA's HRTA Program, please refer to this
link.
Technical Skills Proficiency Level & Skill Upgrade Path (Hiring team will map your profile based
on below parameters)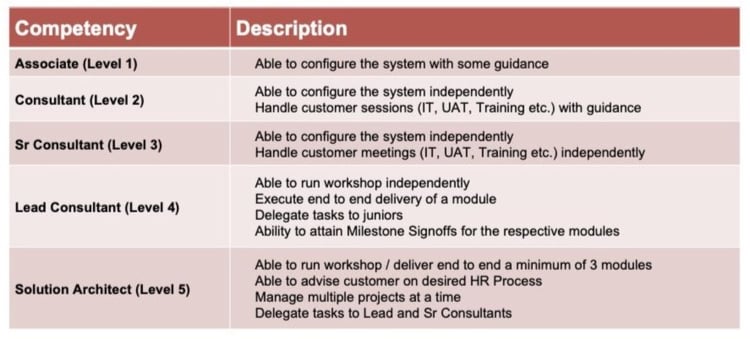 Job Requirements:
Having a full-time degree from a recognized institute.

Minimum 2 to 5 years of experience in one or more areas listed below :

SAP SuccessFactors (SF) HRIS End User / Administrator who is responsible for actively maintaining organization's SF Systems

OR

SF Consultant who have contributed in SAP SuccessFactors Implementation projects i.e. requirements gathering, documentation, configuration, testing, providing administration training, performing data migration, managing User Acceptance Test (UAT)

Dynamic individual with strong communication and presentation skills.

Possess solid problem solving and consultative skills to engage and build relationships with large organizations stakeholders.

Successfully navigate through challenges to complete the deliverables with quality and manage multiple implementation projects concurrently.

Ability to collaborate with large team and work for the common goal.



About Rolling Arrays
Rolling Arrays provides HR Software and HR System Implementation Services (SAP SuccessFactors, Qualtrics, Reimburse, CICO, eFile, eAuthoring) to Clients in Singapore, Malaysia, Australia, UAE, Hong Kong. Rolling Arrays (RA) was featured as Singapore's Top 75 fastest growing companies by the leading newspaper of Singapore - The Straits Times in 2021 where RA was ranked 48. Rolling Arrays has 2 lines of businesses:
HR System Implementation Services:
Rolling Arrays is regarded as number ONE mid-size firm in the South East Asian Market with a strong track record of 12 Years and more than 200 enterprise level HR Technology Implementation projects till date. The services include –
SAP SuccessFactors Design Consulting

SAP SuccessFactors Implementation

SAP SuccessFactors Change Management

SAP SuccessFactors Support Services (AMS)
HR Software Products in Rolling Arrays' portfolio (partner's products and own products):
SAP SuccessFactors (World's leading End to End Cloud HR Software solution)

Qualtrics (World's leading Experience Management Software)

Reimburse (AI Enabled Travel & Expense Management Software for Enterprises)

CICO (Intelligent Time Capture Machine, a software alternative to Physical Biometric Devices)

eFile (Digitize and contextualize all employee documents in one place)

eAuthoring (Author and publish your own learning content to capture tacit knowledge in the organization)
Rolling Arrays HR-Tech-Consulting Academy (HRTA)
Rolling Arrays has converged leading HR-Tech Consultants with industry know-how of varied HR Cloud Software, Best Practices and Advisory for our implementation. As you undergo training through the RA's HRTA Program, you can directly learn from such experts along with solving real business use case scenarios. This ensures your growth as a Subject Matter Expert, besides your obvious career growth as a consultant - not just in SAP, but across a wide range of HR Tech Solutions. For more information visit our website - https://rollingarrays.com/hr-tech-academy/ .